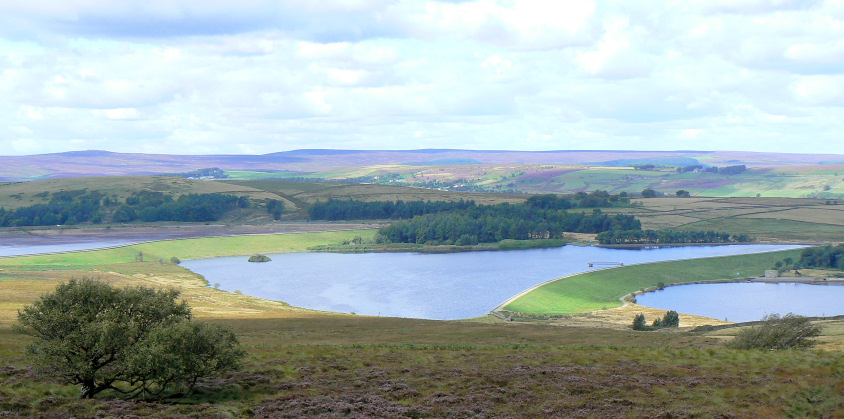 It's maybe the wonderful growth of flowers and trees in this beautiful summer weather that has brought Eliot's lines to my mind while running last Sunday morning. With Martin Spence and John Lyon we'd set off from Redmires Reservoir below Stanage, heading northwards to the point where we almost reached the foot of the path from the A57 that takes you up to the north end of Stanage Edge. And then returning southward along the edge, before turning back to Redmires.
After a slow start the other two picked up the pace a little and I was struggling to stay with them. Ordinarily, of course, in many of the magazines on running on the hills it's all a matter of somehow finding a way of improving one's performance as a runner. And, there's the beautiful scenery that somehow one comes to possess - a photographic memory or a camera is obviously a necessary prerequisite in this desire to acquire something from running!
Rather than striving and labouring to keep up with the pace, simply listening to the curlews...

And, taking it a little easier is always a good time for reflection! Being on Stanage moor, of course, always opens the possibility of also seeing a ring ouzel ...
The familiar mountain blackbird which sometimes reveals its distinctive splash of white around its neck. Although in recent years the chances are ever reduced as the population of this bird has declined alarmingly.

I'm not at all in agreement with Eliot's spectacle of the whole of human stupidity which is more than a human mind can endure. In privileging the mind there is always the danger of passing over the very languages in which are all variously living our lives. Isn't that one of the challenges for us given by our various moorland birds. They each cultivate their own languages - given expression in their songs, their body movements and so on.
'Go go go' is one of Eliot's ways of reflecting on the repetitions of sounds some birds make as the backdrop to the nascent, visceral, playful experience of young children hidden in the trees...
At least in the literary and philosophic imagination, ever open to new possibilities in their own ludic space.

But, what is the challenge of the bird's and of the children's many and various languages? Isn't always impossible to represent the playful body languages of the birds and of the children in play on such a word cloud? To what extent is the impossible at play in our adult worlds? To what extent is the impossible; a thing we can never possess, a vital and vitalising dimension of our own lives?
Have something to say? Comment on this post